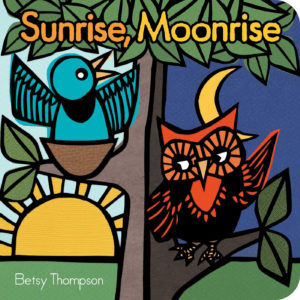 Sunrise, Moonrise
Written and Illustrated by Betsy Thompson
Simon & Schuster 2016
Sun rises.
Bird sings.
And so the day begins in this beautifully simple board book with bold artwork and lyrical text that shows us the passing of time in the day. Fish swim under a blue sky, squirrels dream as the sun sets, the moon rises as stars blink, and an owl hoots when night falls. With word repetition and a single tree that houses both the bird who sings as the sun rises and the owl who hoots after the moon rises, little ones can begin to understand that the day begins and ends in the same way.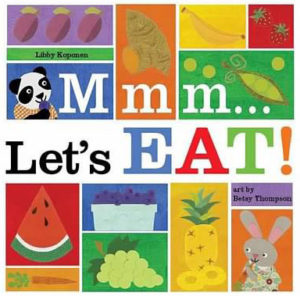 Mmm…Let's Eat
Written by Libby Koponen
Illustrated by Betsy Thompson
Blue Apple Books 2013
Here's a book that helps younger kids make a connection between great food and the colors they see in their everyday lives. Red trucks and toys at playtime? How about strawberries and squirty cherry tomatoes for a snack? An orange sunset leads into sweet potatoes for dinner and a tangy mango for dessert. With gatefolds that provide a guessing-game mode, it's a fun gateway to better eating. Offering a non-didactic way to open a conversation about good nutrition with a young child – with art that looks good enough to eat! -the book also includes a note by a leading nutritionist about helping kids choose and enjoy great, fresh foods. Mm-mm, good reading and good eating!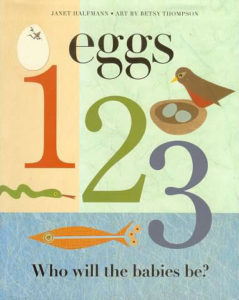 Eggs 1 2 3…Who Will the Babies Be?
Written by Janet Halfmann
Illustrated by Betsy Thompson
Blue Apple Books 2012
Ten spreads with gatefolds and a culminating dramatic fold-out lead young readers from a single penguin egg to an ostrich's clutch of 10 eggs. Song-like, non-rhyming verse gives clues as to who might hatch. The answer to the repeated refrain Who will the babies be? is found beneath a flap. Besides discovering the animal baby or babies, kids will also pick up a lot of nature terminology and interesting facts about animals, their birthing environments, and habitats.

Momotaro (The Peach Boy): A Japanese Tale
Retold by M.J. York
Illustrated by Betsy Thompson
The Child's World 2012
Born from a peach, Momotaro uses courage, and sharing, to bring justice to his village. This beautifully illustrated, classic Japanese tale is one of adventure and the power of friends.